Check our
Bandcamp
for up to date info on us!
Later.
All Final dates with New Bruises.
11.26.11-
East Setauket VFW Hall, Long Island, NY
w/ Iron Chic, Fellow Project, Half way to Hell Club, Giant Peach
11.27.11
-O' Brians Pub, Allston, MA
w/The Fake Boys and Building
11.28.11-
L'esco, Montreal, QC
w/Tightrope, Laureate
11.29.11-
N.C.J.T Records, Toronto, ON
w/Attention
11.30.11-
Daddy McFatts, Northumberland, PA
w/Jaw Horse, Thieves in the Night
12.01.11-
Maxwells, Hoboken, NJ
w/ Latterman, Fucking Cops
12.02.11-
Redwood Arts Space, Wilkes-Barre, PA
w/Tigersjaw
12.03.11-
The Crystal Palace, Philidelphia, PA
w/Attention
12.04.11-
The House of Abe, Richmond, VA
12.05.11-
The Get Down, Ashville, NC
12.06.11-
Wonderroot, Atalnta, GA
12.07.11-
The Farside, Tallahassee, FL
Buy Stuff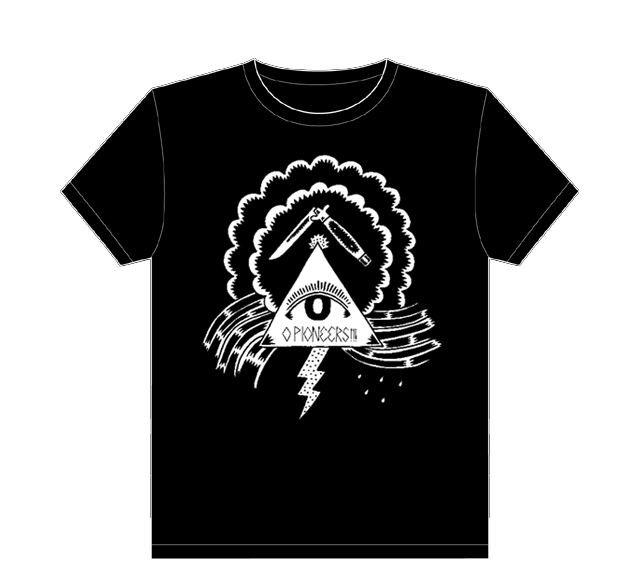 O Pioneers!!! "illuminati" tee.
Printed on Gildan 5000 5oz 100% cotton Tees, with Discharge ink for a super soft feel.
Shipping included in the price.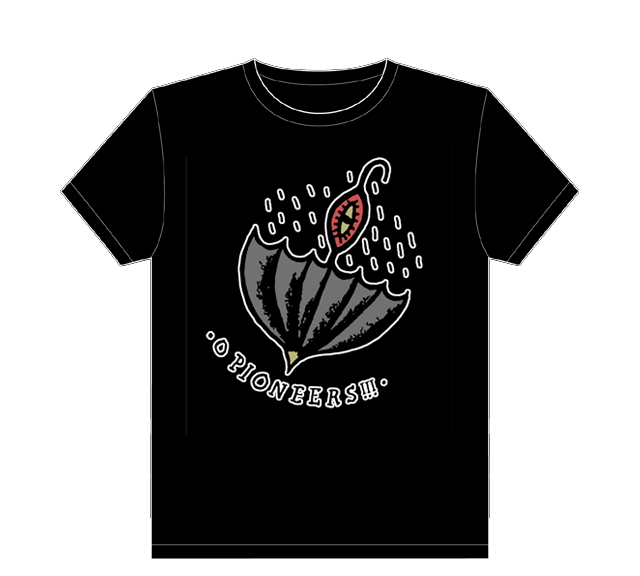 O Pioneers!!! "Umbrella" tee.
Printed on Gildan 5000 5oz 100% cotton Tees, with Discharge ink for a super soft feel.
Shipping included in the price.
OLD POSTs
Hi Everyone! its been so long since i've updated! We are putting up two records for pre-order today on Vinyl Collective. Here ya Go:
This is our split with new bruises! its for Suburan Homes "under the influence" series! We covered "American Hearts" by Piebald, and New Bruises covered "Nu Bruises" by Superchunk.
1,500 7″s will be pressed (500 of white vinyl, 1,000 translucent blue vinyl)
Click Here To Order!
Also Pre order this beauty:
a one song, one sided 7". There will only be 300 pressed. We'll have some for our upcoming west coast tour. Get them before they are gone!
All records will be black, with black labels, and have hand screened and die cut covers.
This is coming from our good friends on
WoahOh records
. They put out records by The Ergs, Charlie Brown Gets a Valentine, The Sidekicks and much more!
Click Here To Order!
We are also almost done booking our west coast tour. We should have it all confirmed in the next week or so. Hooray! i'm really excited about this all.
Aug 20 2009 8:00P
The Conservatory w/ the anchor oklahoma city, Oklahoma
Aug 21 2009 8:00P
Ghost House w/ the Anchor Lincoln, Nebraska
Aug 22 2009 8:00P
Alex's house w/ the anchor, 10-4 elanor boulder, Colorado
Aug 23 2009 8:00P
Blast-o-matt w/the anchor Denver, Colorado
Aug 24 2009 8:00P
BOING! house w/ the anchor Salt Lake City, Utah
Aug 25 2009 8:00P
ZACC Gallery w/ THE ANCHOR misoula, Montana
Aug 26 2009 8:00P
The Morgue w/ The Anchor, Anchor Down! Seattle, Washington
Aug 27 2009 8:00P
The Northern w/ RVIVER, The Anchor Olympia, Washington
Aug 28 2009 8:00P
The Zombie House w/ The Anchor, Anchor Down! portland, Oregon
Aug 29 2009 8:00P
San Francisco san francisco, California
Aug 30 2009 8:00P
Nickel City Arcade w/ for the win San Jose, California
Aug 31 2009 8:00P
Plea For Peace Center w/ The Anchor Stockton, California
Sep 3 2009 8:00P
Alterknit lounge w/ for.the.win Los Angels, California
Sep 4 2009 8:00P
North Park Awesome Fast North Park, California
Hi! Cassette Tapes and 8 Tracks
05.01.09
We are offering a limited edition cassette tape of O PIONEERS!!! "NEON CREEPS" -- limited to 250 lime green cassettes, with the first 150 orders packaged in a rad screen printed canvas bag [pictured below]
Hand Screened bags by:
I Heart U
These are limited, so you should get a copy sooner rather than later from our webstore:
MIGHTER THAN SWORD
we'll have our copies up in our store soon:
WEBSTORE
Also Neon Creeps will be out on a 8 track tape soon. i'll keep you posted. Those will be super limited. most likely to 100.
lets talk soon!
<3
My name is Eric. Im in a band called O Pioneers!!! We started making music in the fall of 2004. Kind of crazy that it's been 5 years since we've been doing this!
Alot has happened since we've caught up! we've lost some people, gained some people, repeat x 6.
We just put out a new record on Asian Man/Kiss Of Death, like hmmmm two months ago i guess? It's called Neon Creeps. Its coming out on Cassette soon too. Like in a week!
I'll try and update you soon my friend.
till then, high five.
<3
eric
p.s. Hi Rick!
p.p.s: Here are some upcoming shows:
04.18.09.
1919 Hemphill
w/ Slingshot Dakota, Ft. Worth, Texas
05.15.09.
Walters On Washington
w/ Ninja Guy/Mike Hale, Houston, Texas
past shows
MYSPACE
TEAM SCIENCE RECORDS
UNDERGROUND COMMUNIQUE RECORDS
I HEART U PRODUCTIONS
You can buy our records from the following websites:
TEAM SCIENCE RECORDS
NO IDEA RECORDS
INTERPUNK
UNDERGROUND COMMUNIQUE RECORDS
ASIAN MAN RECORDS
VERY DISTRO
REV HQ
SMARTPUNK
ROK LOK RECORDS